CAR, MOTORBIKE AND TRAILER NUMBER PLATES
Boundary Produce a full range of number plates for Cars, Vans, Trucks, Trailers and Motorbikes, single plates and sets from standard number plates to Gel, 3D and dual colour plates.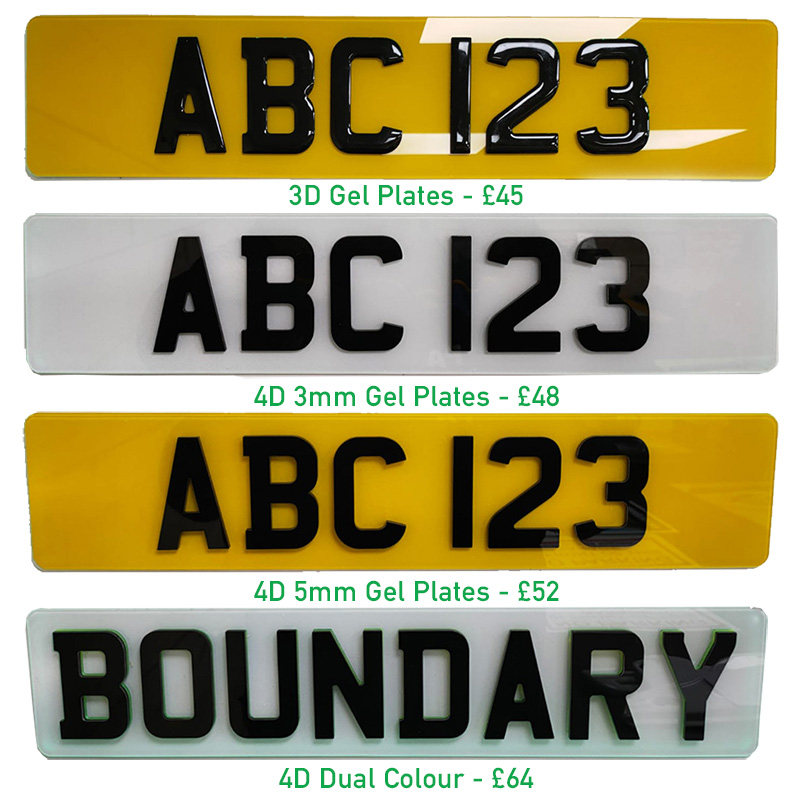 A new set of Car / Van number Plates are £30.00 with a standard motorbike plate coming in at only £15.00
As well as the standard plates we can also make the following
3d Gel Plates are £45 a set
4D Plates with 3mm Deep letters are £48.00
4d Plates with 5mm Deep letters are £52.00 a set
All of the above plates are road legal as they are picked up correctly by speed cameras etc
4D Dual Colour plates are £64.00 per set.
These are 3mm black letters on top of a 3mm letter in the colour of your choice from Green, Blue, Red and Yellow giving you a 6mm 3d stand off letter.
These plates are not road legal due to the letter not being all black but can be used for display purposes at shows etc
TO PURCHASE A NUMBER PLATE
To supply number plates it is now a legal requirement that we have to take documentation from the customer so you must supply on order the following which we will take copies of, we can not supply number plates without this information.
The Vehicles V5 Document
Your Driving Licence
Your plates can be made on site whilst you wait.
FURTHER INFORMATION AND QUOTES
To ask questions or have number plates made please call us on 01744 813282 or email sales@boundarygraphics.co.uk