Tow Bar Fitting in St Helens
When it comes to towbars, no matter what you are towing, be it a Trailer or a caravan, we have the towbar installation and electric solution for you. Towing any load can be a daunting thought. However, our excellent products and service will provide you with the safest and most effective solutions for towing.
For your information, we are authorised fitters of Witter towbars, in addition to this we stock and fit other leading brands such as Westfalia, Towtrust and PCT.
Most cars have a range of towbar options available and a number of electrical options which are detailed below.
Witter Towbar Installation Quote
Boundary Car Care are authorised dealers for Witter Towbars which also now also includes Westfalia products. Our prices are in-line with what Witter quote, please click on the button to the right to get a quote using the Witter quote tool, if you are happy with the pice please call us on 01744 813282 to book your vehicle in.
There are 2 styles of towbar available.  You can choose between either a flange ball towbar, where the towbar has a faceplate with the towball bolted to it, or you can get a swan neck towbar which has a one piece neck with the towball attached.
Either option can be available as a detachable option where the neck can be removed from the towbar when you are not using it. If you're not sure about the style of towbar that you need, Take a read below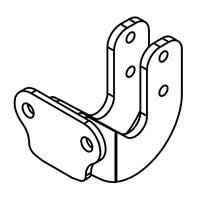 Flangeball Tow bars
On a flange towbar, the bar has a faceplate onto which the towball and electrical connections are mounted. You can also get a Swan neck with is a one piece and nicer looking finish.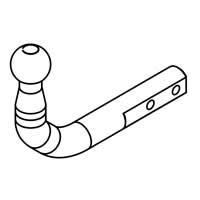 Swan Neck Tow bars
Rather than a plate to mount the tow ball onto, this is a one peice that is mounted further back on the bar leaving the vehicle with a much cleaner look.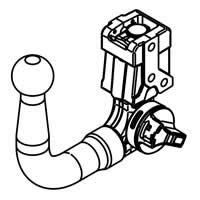 Detachable Tow bars
Both flangeball and swan neck towbar styles are available in a detachable option for most models. With a detachable towbar you can remove the neck when the towbar is not in use leaving the vehicle looking like it does not have one.
Towbar Electric Sockets
Tow bar electric sockets come in three types. The socket you require depends on your intended use for your tow bar, you will need either 7 pin, twin 7 pin, or 13 pin electrics. Our team are more than happy to advise on what is best for your requirements however we have set out the 3 different sockets below for your information.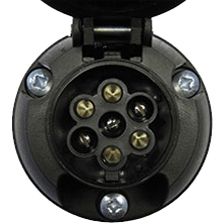 Single 7 Pin electrics are the 'standard' towing electric plug.
You need this fitting if you will be towing a standard UK trailer or using a standard cycle carrier on which you need to power a reverse light.
7 Pin electrics are also used for UK caravans manufactured prior to 2008. Caravans usually required 'twin electrics' where the 12(N) socket is fitted with an additional grey, 12(S), supplementary socket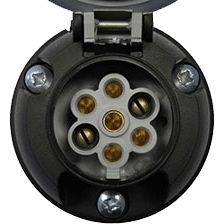 Twin electrics are used when you will be towing a caravan manufactured prior to 2008.
The grey 12(S) supplementary socket is fitted in addition to the Single 7 Pin socket to provide power to charge the caravan battery, and to provide power to the interior functions of the caravan.
This type of socket has been replaced on caravans built after 2008 in the UK. New caravans now use the 13 pin standard socket.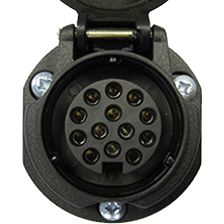 13 Pin Electrics have been standard in most other European countries for some time.
This is replacing the 2 separate socket currently used in the UK. The 13 pin socket is essentially the two 7 pin sockets merged in to one.
All caravans manufactured in the UK from 2008 are fitted with an ISO 13 pin connector as standard. This system uses one socket with 13 pins inside, instead of the traditional two separate 7 pin sockets.
Get a Towbar Fitting Quote
Tow Bar wiring types
You will also need to decide how you would like the wiring to be installed on your car. There are two ways that towbar wiring can be installed.
It can be installed using either universal aftermarket wiring, or using what is known as vehicle specific, or dedicated wiring.
Vehicle Specific wiring can be a lot more expensive, but has many benefits to justify the cost. When getting quotes for a towbar installation it is important to understand what you are looking for. The 'cheapest' way to install the wiring is rarely the best.
On older cars you have the option to decide how you would like the wiring to be installed, you can choose between universal aftermarket wiring, or vehicle specific wiring depending on your budget.
On newer cars which have safety features built in to the car which would only be activated with vehicle specific wiring, we always fit the wiring as standard included in the price that you are quoted.  Using universal wiring on these cars would mean that essential safety features are not active when you are towing.  In the future all cars will require this type of wiring to be fitted.
To help you make an informed decision, we have detailed the difference between the 2 wiring options below.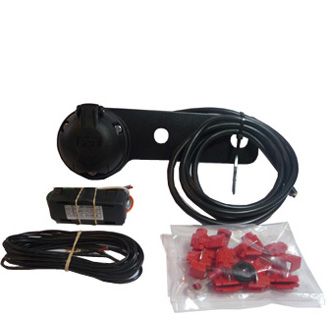 Universal towbar wiring kits were, until the introduction of vehicle specific wiring kits, the standard method for the fitment of aftermarket towbar wiring.
This is a lower cost option than vehicle specific towbar wiring, however it does have some compromises as a result.
Universal towbar wiring does provide all the lighting functions that are needed to keep you legal while towing your trailer or caravan.
However it doesn't provide the additional benefits provided by vehicle specific towbar wiring.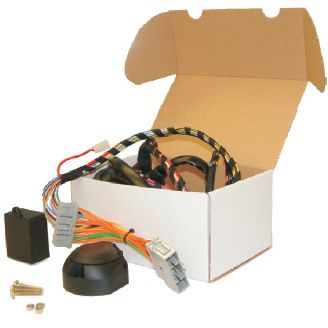 Vehicle Specific Wiring, sometimes known as 'dedicated wiring looms' or 'plug in kits', are becoming ever more popular for towbar wiring installation. To put it simply this is the way the job should be done.
Each kit is designed specifically for the vehicle that it is fitted to, and rather than soldering or using 'Scotch Locks' to connect the towbar wiring, which is the case with universal aftermarket wiring, these kits interface with the vehicle systems in the same way as the vehicle manufacturer intended.
Due to the complex nature of dedicated wiring it is inevitable that is more expensive than universal wiring.
FURTHER INFORMATION AND QUOTES
If you have any questions or would like a quote for a towbar on your vehicle please call us on 01744 813282 or email info@boundarycarcare.co.uk