Description
Kenwood DMX 7018DABS - Multimedia Head Unit
7.0" AV-Receiver with Bluetooth, DAB Radio & Smartphone Control
KENWOOD multimedia receivers provide an ideal in-car experience by being compatible with a wide range of media file formats, enhanced sound quality control thanks to the built-in 13-band graphic equalizer, digital sound processor and digital time alignment, and advanced connections like Apple CarPlay and Android Auto.
DMX7017DABS – Features: Apple CarPlay, Android Auto, Bluetooth hands-free calling & music streaming, DAB/FM/MW tuner, Spotify direct control, iPod-iPhone, USB connectivity.
7″ High resolution touch control display
The DMX7017DABS 7″ high-resolution clear resistive touch screen shows directions, track listings and a whole wealth of information very clearly. It offers multiple levels of connectivity, including Apple's CarPlay (iPhone 5 upwards) and Android Auto (Android phone running 5.0 (Lollipop) or higher).
Apple CarPlay
Apple's CarPlay is the smart and safe in-vehicle interface to operate your iPhone 5 and upwards, and the experience is taken to another level. Plug in your iPhone via your genuine Apple white USB lead and simply talk to Siri, or touch the receiver's display and get directions from Apple Maps, make phone calls, listen to voicemail, send and receive texts, listen to your music library, Apple Music and additional apps like Spotify, Amazon Music and Deezer all in away that allows you to stay focused on the road.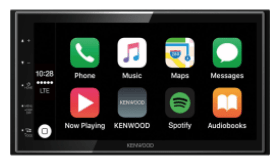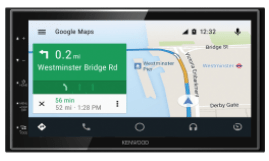 Android Auto
Android Auto is designed with safety in mind, helping you to minimise distractions and stay focused on the road. Simply connect your Android smartphone using the phones USB lead and access Google Maps, phone calls, messages, Google Play Music and additional apps like Spotify. Making it the perfect complement for your in-car life. To use Android Auto, you need an Android smartphone running 5.0 (Lollipop) or higher.
Bluetooth Hands-free Calling and Music Steaming
Equipped with built-in Bluetooth capability to enable hands-free mobile phone operation and wireless music streaming so you can keep your hands on the steering wheel where they belong and concentrate on the road ahead. Wireless music browsing enables you to use the DMX7017DABS to search nd select songs from your smartphone music collection, through a Bluetooth connection.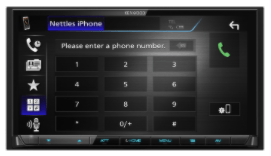 DRV-N520 Navigation Linkage DashCam

Touch Control
Recorded videos can be displayed on the large screen, and operated from the touch panel.

Safety Alert
DRV-N520 is equipped with the safety alert function. Dangerous situations such as lane departure or forward collision are detected and a beep sound and caution pop-up is displayed on the DMX7017DABS.

Kenwood DMX7017DABS Manual (PDF File)